Vocal production learning - the ability to modify vocalisations through the imitation of sounds - is a rare trait. Humans are exceptional vocal learners that are able to learn to produce speech and spoken languages, yet few other animals share this trait. Due to their extraordinary ability to actively use sounds for navigation, bats are highly specialised for the emission and reception of acoustic signals. This, together with their gregarious nature and intensive use of social vocalisations, makes them excellent candidates for the study of vocal learning.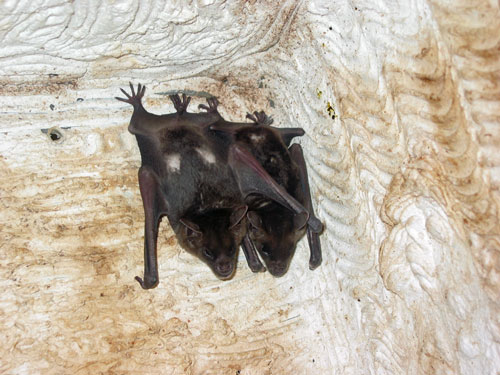 This study explored the vocal learning capacity of pale spear-nosed bats and showed that these bats are capable of learning to adjust the pitch of their calls towards acoustic target sounds, demonstrating vocal learning.
In the experiment, the bats were presented with playbacks of their own social calls, but with a reduced frequency. When the bats copied the presented call, they were rewarded with banana mash. Over time the frequency they needed to copy was lowered and the experiment was made gradually more difficult for the bats. After 30 days all six trained bats lowered the frequency of their calls. As such, this study demonstrates that bats possess the capacity to lower their call frequency according to a playback, which shows their ability to perform vocal learning.
This work was undertaken by researchers from the Ludwig-Maximilian University Munich, led by Lutz Wiegrebe, and the Max Planck Institute for Psycholinguistics, led by Sonja Vernes. The Human Frontier Science Program played an essential part in this project as this collaboration came about thanks to an HFSP Research Grant, awarded in 2016. The HFSP research grant proposed to establish bats as a novel mammalian model of vocal learning, and this work is an important step towards this goal. With these behavioural paradigms established, we can now explore the neural and molecular underpinnings of these vocal learning abilities in a mammalian brain.
Sadly, Lutz Wiegrebe passed away late last year. This project would not have been possible without his wisdom, guidance, exemplary scientific integrity, and friendship. He will be sorely missed.
Read more >
The NewScientist and NewScientist podcast
The Telegraph (UK)
Scientias.nl (Netherlands)
Tekk.tv (Germany)