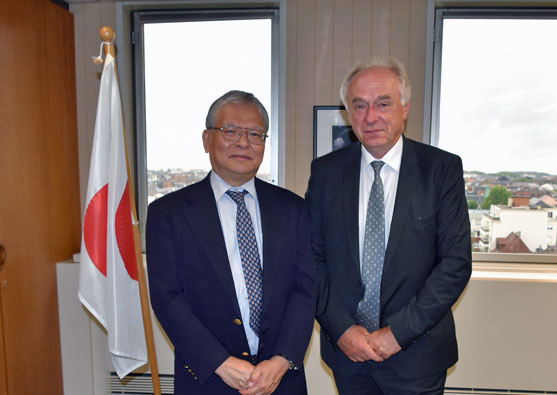 Professor Kabat expressed his deep appreciation and thanks to the Government of Japan for its central and visionary role in initiating the Organization in 1989 and in generously providing core financial support that has sustained the Program for over 30 years. Following genuine consultation among leading Japanese and international scientists in biology and the life sciences, former Prime Minister Yasuhiro Nakasone had launched HFSP at the G7 Summit in Venice in 1987, with the full support of Canada, the European Communities, France, Germany, Italy, the United Kingdom and the United States of America. Japan has been HFSP's major supporter and contributor ever since, currently providing almost 40% of the budget. 
However, the most important step made under Japanese leadership in the G7 was to give the world a clear vision of the key and fundamental importance of basic science in addressing the challenges of today's world and a tool for international collaboration and mutual understanding. The Secretary-General acknowledged Japan's leadership and contribution to HFSP and expressed the hope that Japan would extend its level of contribution in the future.  
The Consul General, at first, congratulated the Secretary-General on his appointment, and profoundly appreciated his comments on contributions that the Japanese government has made over 30 years. The Consul General also agreed on the importance of fundamental research and human science, and reaffirmed the continued commitment of the Government of Japan and the Consulate General in Strasbourg to the activities of the HFSPO in the future.
The Secretary-General also informed the Consul General of his planned visit to Japan this October to meet representatives of a broad range of governmental and academic institutions, including MEXT, METI and AMED, consulting them on how to further expand the participation of Japanese institutions and researchers in global HFSP networks. 
The Consul General offered his support in preparation for this visit to Japan.
8 July 2021