Parasitic wasps are responsible for the high mortality of Drosophila, which lay eggs in larvae and pupae. Following infection, if the host fails to mount an immune response to block the wasp's development, then the wasp egg hatches, develops, molts, and grows into an adult wasp that emerges from the Drosophila pupal case. In response to the parasitic selection pressure, fruit flies have evolved various behavioral and immunological defense mechanisms to reduce infection.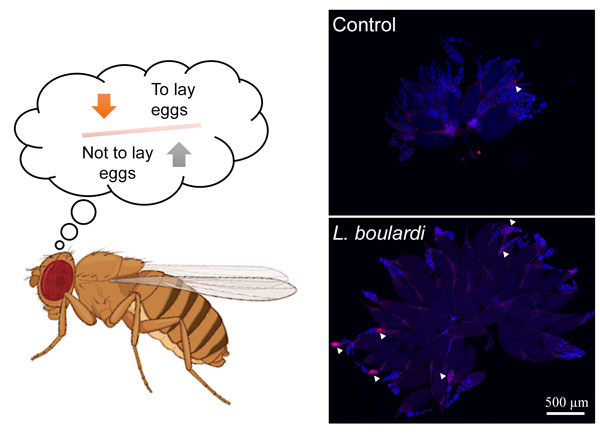 Figure: To reduce the rate of infection, Drosophila females modify their egg-lay in the presence of a parasitic wasp. Compared to controls, wasp-exposed female ovaries show retention of matured eggs and increased caspase-dependent apoptosis of the developing follicles.  
Interestingly, while the parasitic wasp attacks larvae or pupae, the adult Drosophila identify the threat and modify their behaviors to decrease infection risk in their progeny. We asked how parental instinct is encoded in the adult flies that recognize and protect their progeny from the parasitic threat.
In the presence of wasps, Drosophila adult females retain their eggs and subsequently lay them in a wasp non-infested area. This alteration in reproductive behavior is selective to wasps (Leptopilina boulardi) that infect the developing larvae, but not to the pupal-parasitoid wasp, and requires both visual and parasitoid-specific olfactory cues. In the downstream circuit, these multimodal sensory inputs recruit neuroendocrine signaling (Neuropeptide F and its receptor, NPFR) in the central nervous system that triggers retention of fully developed eggs and increases apoptosis of the developing egg chambers in the wasp-exposed ovaries, resulting in egg-lay reduction. In summary, our study unravels the cellular and behavioral mechanisms that underlie innate recognition of predator threat in flies. The outcomes of this report have broader implications in fields such as neuroethology and biocontrol.
We thank HFSP for the fellowship funding that allowed us to accomplish more than we ever imagined. The new findings of our research led us to unknown territories, which we are currently exploring.