With functions as diverse as communication, protection and thermoregulation, colouration is one of the most important traits in animals. The ability to change colour as a function of varying social and environmental conditions is thus an important innovation, but not much is known about the mechanisms behind it. Agama lizards in southern Africa can change from dull brown to deep blue colouration. Traditionally, such colour change was attributed to migration of pigments (in particular melanin) in the skin, comparable to how humans become tan. More recent work has shown that nanoscale changes in the configuration of small light reflecting crystals present in skin, called iridophores, can produce a wide palette of colours.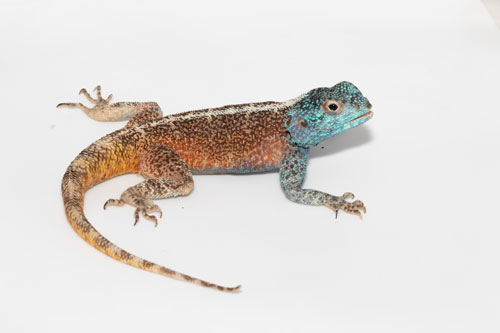 Agama atra lizard (photo by Michaël Nicolaï)
Here we used a combination of gene expression analyses, together with microscopic identification of iridophores and pigments. The former analyses allowed us to see which genes are "switched on", expressed  or "off",  not expressed,  in colour changing animals versus animals that changed colour less. We then compared these differentially expressed genes with previously published genes that are associated with specific colour producing mechanisms, including the melanin pathway (the series of genes involved in the production of melanin) and genes involved in iridophore production, as well as pathways from other pigments. We found differential expression in genes related to both the melanin production pathway and the iridophore pathway, but no genes related to other pigments. Indeed, microscopic analyses confirmed that there were differences in both melanin and iridophore densities and organisation in animals with the deep blue colour. As such, we showed that colour change in Agamas is the result of a complex interaction between both changes in iridophore configuration and pigment (melanin) production and transportation. Furthermore, this work demonstrates the power of combining genotypic (gene expression) and phenotypic (microscopy) information for addressing physiological questions, providing a basis for future studies of colour change.
Our HFSP project focuses on uncovering how colours produced by nanostructured arrangements of materials grow in animals. How do these materials become so precisely organised at such a small scale? This paper is a step forward in answering this question, and shows that the answer is not likely to be straightforward, involving multiple genes that control multiple aspects of morphology. This work was started before our HFSP project began, but with a focus on the effects of diet quality on colour. Halfway through that experiment, we discovered that "food-restricted" lizards were sneaking food from other sources and were thus eating as well as control lizards! Rather than giving up, we realized that the colour change from brown to blue that these lizards underwent provided an excellent opportunity to study how coloured nanostructures form, regardless of any differences in food. Thanks to our HFSP project, we were able to run the gene expression analyses needed to complete the study. Concurrently, we published a similar analysis comparing gene expression in feathers from African starlings that are coloured either by nanostructures or pigments (Rubenstein et al. 2021), with comparably complex results. We continue to dive into this topic, and look forward to new discoveries.
As part of our HFSP project, we are developing biomimetic replicas of these nanostructures that grow using low-cost processes similar to those we observe in animals. This could pave the way for new coloured materials that require fewer costly pigments and energy to produce.