Microtubules are dynamic intracellular polymers essential for cell shape, cell division and intracellular transport. Proper cellular function relies on highly-controlled regulation of the dynamics of individual microtubules, which exhibit stochastic switching between phases of growth and shrinkage. The standard model of microtubule dynamics states that microtubules grow as long as they maintain a protective cap of GTP-bound tubulin subunits at their ends. When microtubule growth rate is increased by increasing concentrations of tubulin alone in vitro, the size of the GTP-tubulin cap increases, and the transitions from microtubule growth to shrinkage (known as microtubule catastrophe) are suppressed. In this way, the fast microtubule growth is directly linked to a prolonged microtubule lifetime. However, microtubules in cells are known to both grow quickly and undergo frequent catastrophes, raising the question: what properties of the GTP-cap permit fast, yet highly dynamic microtubule growth?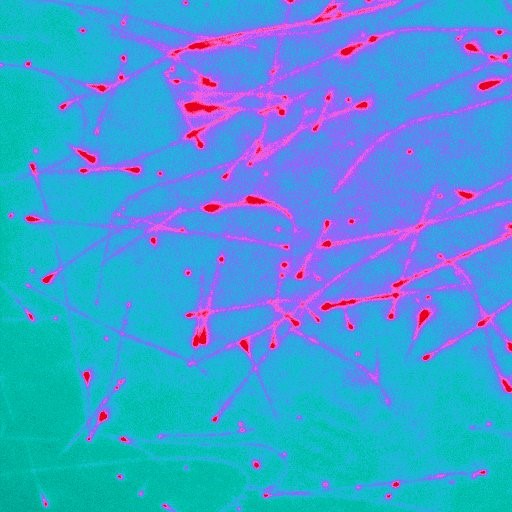 Figure: Pseudo-color rendering of EB1-GFP comets, highlighting GTP-tubulin caps on microtubule ends growing in the presence of XMAP215. Credit: V. Farmer, M. Zanic.
In cells, the acceleration of microtubule growth is achieved through the action of microtubule polymerases, the most prominent of which is microtubule-associated protein XMAP215, known for its vital roles in cell division. Our study directly compared the properties of fast microtubule growth achieved either by high concentrations of tubulin or through the action of XMAP215. We found that fast-growing microtubules maintain a large GTP-cap irrespective of whether growth acceleration is achieved by XMAP215 or tubulin alone. However, in spite of having a large GTP-cap, microtubules grown with XMAP215 are not protected against catastrophe, and frequently switch into shrinkage. Instead of reducing the overall size of the GTP-cap, we find that XMAP215 increases fluctuations in microtubule growth rate and induces tapered and curled microtubule ends. Such 'sloppy' microtubule growth promoted by XMAP215 ultimately destabilizes the growing microtubule end, making it prone to catastrophe.
Taken together, our research challenges the conventional view of microtubule stability, suggesting that the size of the GTP-cap alone does not define microtubule longevity. Furthermore, our findings demonstrate how, through the action of microtubule-associated proteins such as XMAP215, the cell can independently regulate microtubule growth rate and microtubule catastrophe frequency. The ability to independently control how fast microtubules grow and how often they transition between growth and shrinkage is at the core of the complex remodeling of the microtubule network in a vast variety of cellular contexts.
The support of the HFSP Career Development Award was instrumental in providing the initial funding for this work.
 
HFSP award information
Career Development Award (CDA00073/2014-C)
Awardee: Marija Zanic
Nationality: USA
Host institution: Vanderbilt University, Nashville, USA