A key period during the development of an embryo is known as gastrulation. It leads to the formation of the main tissues of the body. We first combined lineage tracing and imaging to identify the cells that form the heart during gastrulation. In this way, we could trace an individual cell's destiny from gastrulation until late embryonic stages when the heart has formed. We found that the first set of cells to contribute to the heart create the left ventricle, followed by cells forming the right ventricle and finally the atria.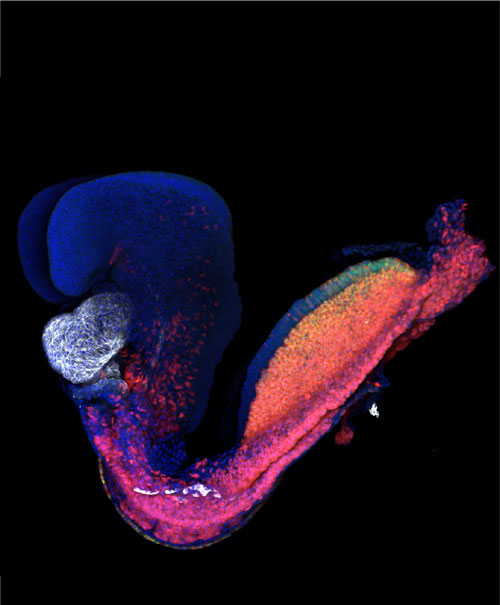 Figure: Mouse embryo at gestational day 8. The heart is labelled in white. Credit: K Ivanovitch
We next combined this imaging approach with a single cell transcriptomic method (techniques to measure gene activity in individual cells). We concluded that distinct genes are active in the predecessors of the heart at very early stages, prefiguring their allocation to distinct anatomical structures of the heart. 
Finally, using a multiphoton live-imaging method to microscopically film mouse embryo culture outside the womb, we followed the migration of individual cells as they migrated through the embryo to establish the heart.
The finding that different parts of the heart arise in different locations in an embryo may help other researchers to produce more homogenous heart cell populations from stem cells. Many of the current methods yield mixed cultures of atrial and ventricular cells. Our study suggests that the generation of initial cells pre-determined to generate either left or right ventricle or atrial cell types may yield purer populations of cardiomyocytes instead. This might be useful for modelling heart disease using stem cells or for the development of regenerative therapies.
The finding also has implications for understanding congenital heart diseases, which affect one in 180 babies worldwide. For example, it may explain why just a single heart chamber is affected in heart defects such as left ventricle hypoplasia. The distinct origins of the different populations of heart cells may render them particularly sensitive to a genetic or environmental insult.
By deferring and transferring my HFSP fellowship from Spain to the Crick Institute in the UK, I could establish new collaborations and learn about new techniques that hugely benefited my research. I wouldn't have been able to do this research without the support of HFSP.