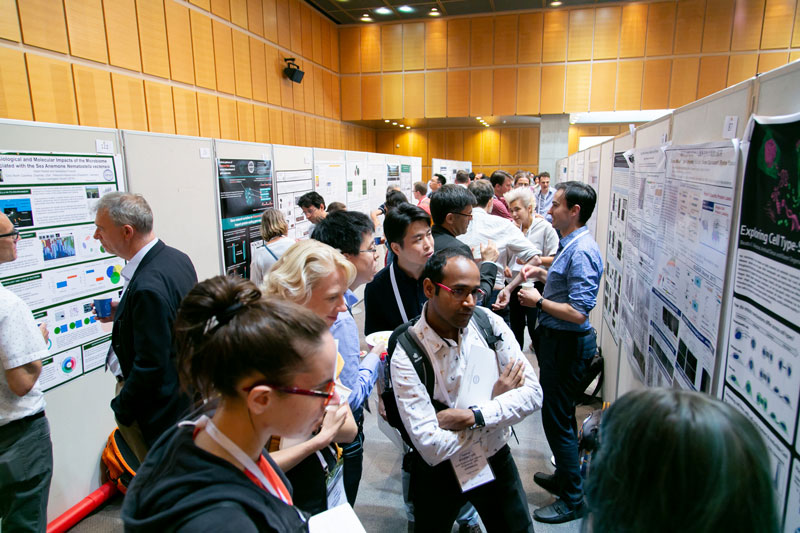 Almost 400 HFSP awardees, alumni, committee members and local dignitaries and students congregated at Hitotsubashi Hall in Tokyo on July 9 to celebrate 30 years of HFSP science. The meeting featured a series of talks by distinguished speakers including four Nobel laureates: Tasuku Honjo (2018 Nobel Prize in Physiology or Medicine), Jules Hoffmann (2011 Nobel Prize in Physiology or Medicine), Ada Yonath (2009 Nobel Prize in Chemistry) and Torsten Wiesel (1981 Nobel Prize in Physiology or Medicine). All four speakers have close connections to HFSP: Profs Honjo, Hoffmann and Yonath are all alumni of the Research Grant program and Torsten Wiesel was Secretary-General from 2000 - 2009.
Another highlight of the meeting was the HFSP Nakasone Award ceremony. We were honoured that the presentation of the award to this year's winner, Michael Hall, was made by Hirofumi Nakasone, Member of the House of Councillors, National Diet of Japan and son of Prime Minister Nakasone of Japan upon whose initiative HFSP was founded in 1989.
The anniversary celebration was followed by the annual HFSP Awardees Meeting at the Tsukuba International Congress Center from 10 to 12 July. Almost 300 participants attended, including current HFSP awardees and alumni. This year there were 30 full talks, including a special session for HFSP alumni based in Japan.  Over the 3-day meeting, 155 posters were presented, of which 30 were selected for 3-minute poster-teaser talks. 
Special excursions to the International Institute for Integrative Sleep Medicine (IIIS), The National Institute of Advanced Industrial Science and Technology (AIST) and the BioResource Research Center at RIKEN were organised for a small number of participants. Attendees also enjoyed the social events, appreciating both the networking opportunities and the delicious Japanese cuisine at Sansuitei restaurant and the Okura Frontier Hotel.
HFSPO is grateful to MEXT (Ministry of Education, Culture, Sports, Science and Technology, Japan), METI (Ministry of Economy, Trade and Industry, Japan) and AMED (Japan Agency for Medical Research and Development) for their generous assistance and support.
30th Anniversary Celebration talks
HFSP - a model program for international science
Torsten Wiesel, President Emeritus, The Rockefeller University, New York, USA and former Secretary-General of HFSPO
Serendipities of acquired immunity
Tasuku Honjo, Kyoto University, Japan 
Innate immunity: from insects to humans
Jules Hoffman, University of Strasbourg, France
From basic science to advanced medicine
Ada Yonath, Weizmann Institute of Science, Rehovot, Israel
19th HFSP Awardees Meeting talks
HFSP Nakasone Lecture
mTOR signaling in growth and metabolism
Michael Hall, Biozentrum, University of Basel, Switzerland
Invited talk
From basic science to advanced medicine
Ada Yonath, Weizmann Institute of Science, Rehovot, Israel