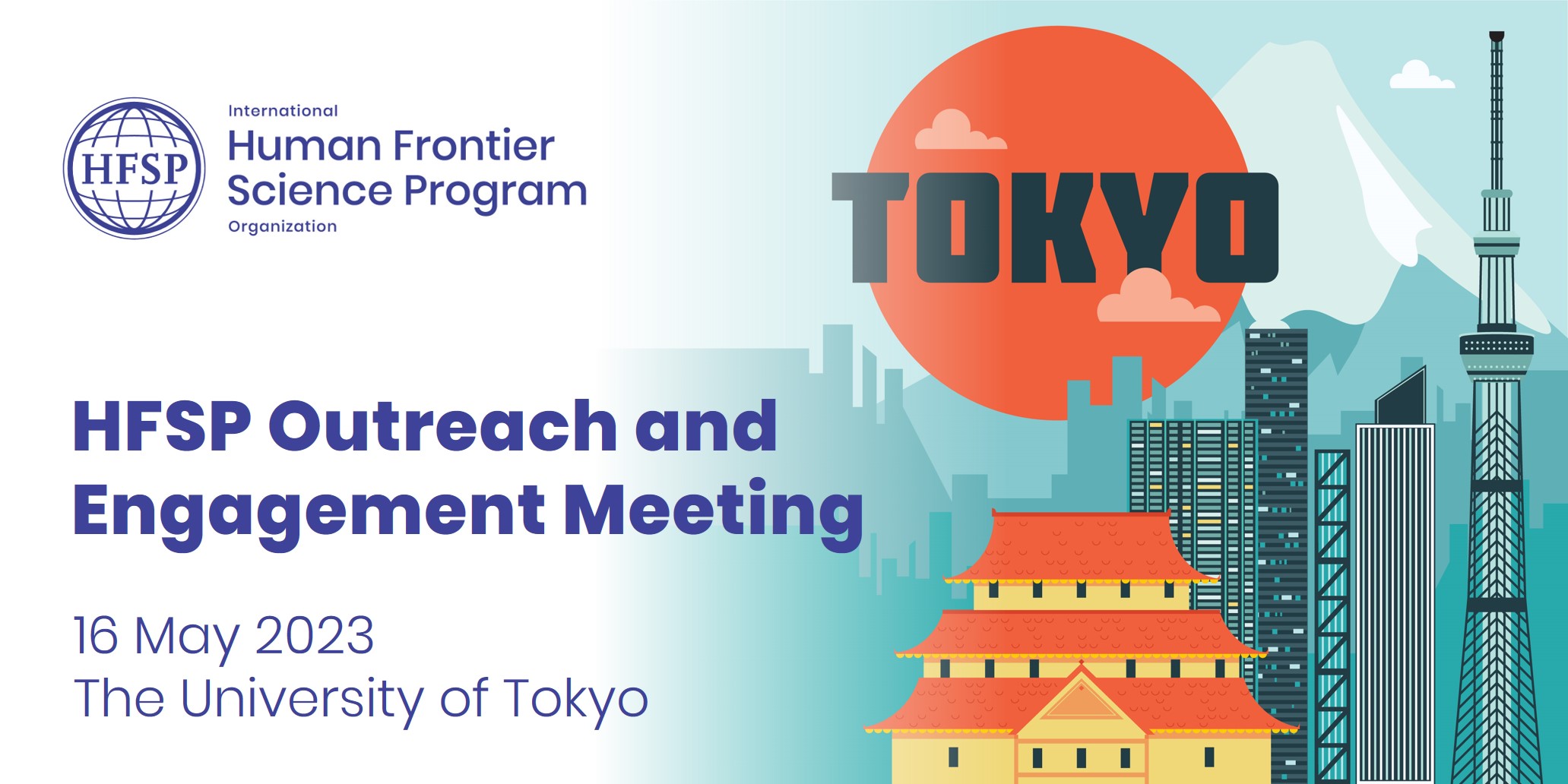 "From Human Frontier Science Program (HFSP) to the World" 
- Message from HFSPO -
The 21st century is called the "Age of Biology". Efforts to approach sophisticated and complex mechanisms of living organisms from various angles will continue to explode. Do you have an idea you'd like to test or work on in this vast potential life science field? Wouldn't you like to explore the profound world of research together with outstanding researchers not only from Japan but from all over the world? HFSP is here to help you.
On Tuesday, 16 May 2023, we will introduce HFSP at the Tetsumon Memorial Hall of the University of Tokyo. HFSP has programs of Research Grants for independent researchers and Postdoctoral Fellowships. It doesn't matter what your current research field is. This event is for researchers and students who are interested in the life science field and want to try out their own ideas and possibilities with a broad global perspective. Registration will be on a first-come, first-served basis, so please apply as soon as possible if you are interested.
Information
Date & Time: Tuesday, 16 May 2023, 13:00-17:50
Venue: Tetsumon Memorial Hall - 14F, Experimental Research Bldg. School of Medicine, The University of Tokyo 7-3-1 Hongo, Bunkyo-ku, Tokyo
Language: Japanese and English (shown in italics in the Program)
Registration: The event is free but registration is mandatory. Please register to confirm your participation here. 
Program
13:00-13:15: Welcome address
Trustee of HFSPO, President of AMED, Prof. Yoshinao Mishima

A representative of MEXT
13:15-13:55: Introduction of HFSP and future perspectives
The Secretary-General of HFSPO, Prof. Pavel Kabat
13:55-14:45: Global Research Trend and Japan's position
Director General, National Institute of Science and Technology Policy (NISTEP), Ms. Mami Oyama

Director, Center for S&T Foresight and Indicators, NISTEP, Dr. Masatsura Igami
14:45-15:00: Break
15:00-15:10: Statement from HFSPO President and the University of Tokyo
The President of the University of Tokyo, Prof. Teruo Fujii.

The President of HFSPO, Prof. Shigekazu Nagata (Osaka Univ.)
15:10-16:10: HFSP experiences
Moderator: HFSPO President, Prof. Shigekazu Nagata,

Dr. Ryosuke Kojima (Univ. of Tokyo), Dr. Sakiko Honjoh (Univ. of Tsukuba), Dr. Yusaku Hontani (Univ. of Zurich, online)
16:10-17:10: HFSP review process
Moderator: Council of Scientists, Vice Chair, Prof. Masahide Kikkawa (Univ. of Tokyo)

Panelists:
Review Committee Chair- Research Grants, Dr. Tomomi Shimogori (RIKEN),
Review Committee Member -Fellowships, Prof. Takashi Tsuchimatsu (Univ. of Tokyo)
Q&A Support(online): Dr. Almut Kelber & Dr. Barbara Pauly, HFSPO Secretariat
17:10-17:50: Panel discussion with new awardees
Moderator: Prof. Pavel Kabat and Mr. Masaomi Koyama (METI)

Panelists: New HFSP awardees

Research Grants: Dr. Kosuke Fujishima (Tokyo Institute of Technology), Dr. Fumitoshi Kaneko (Osaka Univ.), Dr. Toshiyuki Oda (Univ. of Yamanashi), Dr. Sho Tsuji (Univ. of Tokyo)

Fellowships: Dr. Satoyo Oya (Univ. of California, Davis)
17:50-17:55: Closing Remarks
Co-Host
Backing