The discovery of grid cells in rodent, recognized with the 2014 Nobel Prize, and of the remarkable rigidity of their relations, e.g., when the animal moves to a different environment, has suggested that the brain has available a unique millimeter-paper-like chart, hexagonal rather than square, that it applies to map out, and to move within, any environment. A hexagonal grid-like signal has been reported also in human subjects navigating 'conceptual' spaces, implying that grid cell activity may realize an all-purpose continuous 2D manifold. In fact, this particular fMRI signal has been observed in several cortical areas, well beyond the entorhinal cortex of its discovery in rodents.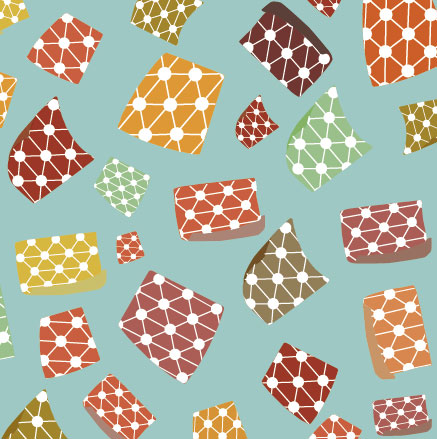 Figure: a multitude of grid charts?
In our HFSP collaboration aimed at analyzing cortical mechanisms of language processing, we asked whether a grid-like code may also be used, at a lower level, to navigate the essentially two-dimensional space of vowels. In this context (as well as in others) the presumed universality of the grid code appears problematic, as it seems, also from another of our studies, that the same neural networks should be able to express alternative maps, for example appropriate to the standard vowels of the different languages of multilingual speakers. We have therefore used mathematical models to determine whether, in principle, a network of grid cells can concurrently hold in long-memory multiple two-dimensional maps, similar to the ones seen, but presumed unique, in rodents.
Figure: CA3 place cells map out each new environment independently of each other. mEC grid cells
have been observed to maintain rigid relations, as in new map B, possibly with changes in the peaks of their activity, as in C. It has been unclear whether they can undergo a complete rearrangement, as in D.
Utilizing two very different models, a binary-unit, variable sparsity model at ENS in Paris and a graded-response, cosine-tuned unit at SISSA in Trieste, we could, for both, calculate the answer exactly, which is the same: such a network can store, with cortical parameters, in the order of a hundred unrelated charts. Why have they not been observed, yet?
Well, recent evidence indicates that grid maps are, even in rodents, less rigid than previously thought, and can morph into a variety of versions. Although the variants are more similar to each other than the unrelated ones we have considered in the mathematical models, the new observations combined with our theoretical finding open the way to analyzing the role of grid-like codes in a number of distinct contexts, two of which we are starting to explore with new interdisciplinary collaborations. One focuses on the dynamics of mind-wandering in human subjects, i.e. the statistical character of how they navigate thought spaces; the other, across species, on the integration of social information into maps of physical space, to generate a flexible representation of socially-defined 'territory', seemingly under the influence of the oxytocin peptide.