Mosquitoes have unique wing motions and a distinct wing shape compared to other flying insects of similar size such as fruit flies (Drosophila). Firstly, their wing flapping frequency is remarkably high (>700 Hz), and this generates a high frequency wing buzz, a sound that we can find annoying. Secondly, the wing stroke angle of the mosquito is much smaller than for other insects. The stroke angle of the mosquito (Culex, male) is only about 40 degrees, whereas it is about 150 degrees for the fruit fly. The recent study by Bomphrey et al (Nature 2017) suggested that mosquitoes exploit fast wing rotation at high flapping frequency to generate additional lift force. The authors also noted that this mechanism is well suited for mosquitoes' high aspect ratio wing shape. However, the question why mosquitoes have evolved to employ such unique flapping remains unanswered.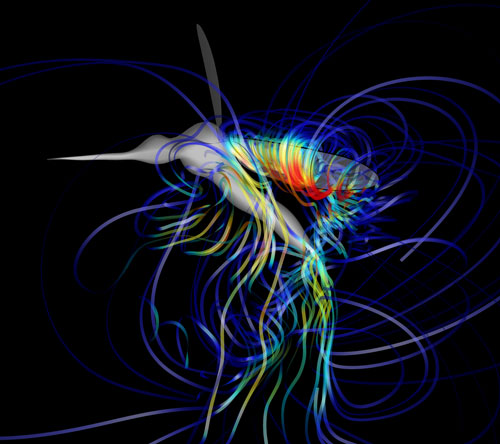 Figure: Stream traces of airflow around the flapping wing of a mosquito. Flow visualization with the simulation result. Mosquito body and wing models are adopted from Bomphrey et al. (Nature, 2017).
It has been known that mosquitoes use the wing buzz as a means of communication during courtship since they swarm in low-light conditions where visual perception is of little use. We hypothesized that their unique wing motions are associated with the generation of the wing buzz. In the current study, therefore, we investigated not only the aerodynamics but also wing buzz generation in mosquitoes (Culex, male) using computational fluid dynamics and aero acoustic modeling. 
The results show that even at the same wing tip speed, the aerodynamic forces, the mechanical power, and the buzz sound power increase for the higher wing flapping frequencies. Most importantly, the efficiency of sound generation also increases with wing flapping frequency. These results suggest that the high flapping frequency in mosquitoes is an adaptation for efficient generation of high-intensity wing buzz. The analysis also shows that, for a given mechanical energy input, sound power can be maximized with high wing flapping frequency, low stroke amplitude, and a large wing aspect-ratio. In fact, mosquitoes exhibit all these adaptations when compared to other flying insects of similar size such as fruit flies.
This study provides insights into the generation mechanism and energy expenditure of wing buzz in mosquitoes. It also helps to explain why mosquitoes might have evolved to have such unique wing shapes and wing kinematics. These findings will greatly help the investigation of acoustic communications in mosquitoes, which is very important in the lifecycle of these insects, many of which are vectors for some of the most devastating diseases that afflict mankind. The project has direct implications for control of disease vectors. Our understanding of this acoustic communication between mosquitoes could enable us to devise ways of disrupting this communication, which in turn could diminish the reproduction rates of these vectors and in doing so, diminish rates of infection.