| | |
| --- | --- |
| | Ryohei Kanzaki is a director and professor at the Research Center for Advanced Science and Technology (RCAST) at the University of Tokyo, a position he has held since 2006. He received a D.Sc. degree in Neurobiology from the University of Tsukuba in 1986. He then took up professorships at the Institute of Biological Sciences at the University of Tsukuba in 2003 and in the Graduate School of Information Science and Technology at the University of Tokyo in 2004. In 2015, he was awarded an HFSP Research Grant to study "Odor-background segregation and source localization using fast olfactory processing". |
Odour sensing is critical for living creatures, and can be used for searching for food and mates. A robot can capture olfactory information with a gas sensor thus enabling various applications, for example, a drug-detecting robot can be placed in an airport instead of spending time training a sniffer dog. Furthermore, a flying robot is expected to complete an odour searching mission faster than a land robot since it can overcome the limitations of terrain. However, odour information changes so quickly that it is complicated for a conventional gas sensor to resolve all the data in a short time.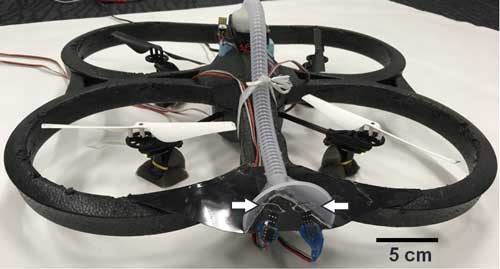 Drone with insect antennae (white arrows).
Insect antennae, the olfactory organs of insects, can react to odour rapidly, which is a powerful advantage for a sensing task. Electroantennogram (EAG) is a specific technique that extracts nerve signal output from an antenna and can turn an antenna into a gas sensor. Compared to artificial sensors, the EAG provides not only a faster response but also higher sensitivity. However, the nerve signal is too small and can be easily influenced by the surrounding noise. When measuring EAGs on a flying robot, noise, such as turbulence generated by propellers, makes the signal unstable and it cannot be removed simply by traditional filters.

Antenna-based biosensor setup and an odour-evoked EAG response.
To improve signal quality, we first collected and studied the characteristics of EAG under flying conditions, such as the shape and response frequency. After analysing frequency components of EAGs, we found that the frequency of actual odour-evoked signals is remarkably low (less than 10 Hz). This result implies that setting a high sample rate cannot help to record details but increases the computational load and causes additional time delay. Therefore, we set a control frequency of 100 Hz in the study. Furthermore, considering the shape of an EAG signal, we developed an algorithm named dropping counter (D-Counter) for detection. The basic idea of the algorithm is to create a moving window for counting the number of sampling points that are dropping below a reference value and thus the counter can be utilised for identifying if the signal is a true response or not. The result shows that the D-Counter can recover the odour stimuli signal from an EAG response with high accuracy.
D-Counter, the first algorithm for recognising EAG responses, shows that it is possible to employ a flying robot and an insect antenna for odour localisation. The filtered data can be used to determine the encounter timing of an odour trail. In the future we will make good use of the information to realise odour localisation.