Autism spectrum disorder  is a neurodevelopmental condition characterized by changes in communication, repetitive behavior, and social difficulties. There is a strong genetic component to ASD, and hundreds of genetic factors have been identified. Many of the genes linked to autism are functionally related and converge on common biological pathways, with two of the most common being genes that regulate synaptic function and genes that regulate the translation of mRNAs into proteins. The large genetic variability has been a major obstacle in developing new treatments, as people with divergent underlying etiology for a specific symptom may not respond to the same treatment. To overcome this, recent treatment approaches have focused on the hormone oxytocin, which regulates aspects of social behavior in mammals. However, in most cases there is no clear link between autism-associated genes and oxytocin signaling.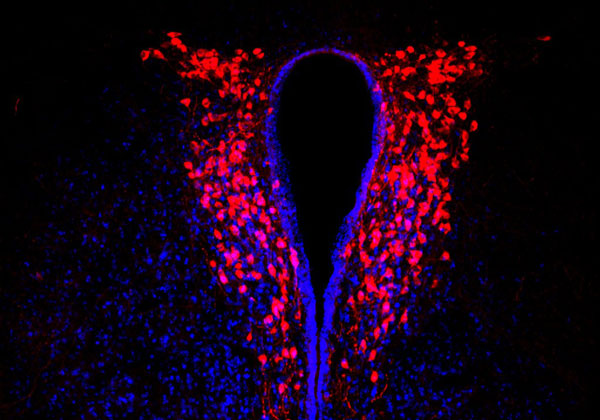 Figure: Oxytocin producing neurons (in red) in the paraventricular nucleus in the mouse brain. Picture credit: Hanna Hörnberg.
To investigate the biological pathways underlying the social symptoms associated with ASD, 2014 HFSP fellowship awardee Hanna Hörnberg and colleagues used a genetic mouse model lacking the autism-associated synaptic protein Neuroligin-3. These mice show changes in social interaction that is dependent on dopamine-producing neurons in the brain's reward system. The researchers found that this change in social behavior is caused by a loss of response to oxytocin in these neurons, despite the mice having a normal number of oxytocin-producing cells.  
Unexpectedly, loss of neuroligin-3 affected translational regulation in the brain's reward system. The research team used a novel pharmacological inhibitor of protein synthesis to restore translation, and treatment with this inhibitor restored social behavior and the response to oxytocin in mice lacking Neuroligin-3. Importantly, the treatment was well tolerated, and the inhibitor improved behavior in a second ASD mouse model, suggesting that this approach may be more broadly applicable.
These findings show an unexpected convergence between three biological pathways linked to autism: synaptic proteins, oxytocin signaling, and translational regulation, and demonstrate how multiple factors associated with autism can be connected. Focusing on such shared biological mechanisms may be a way forward towards a more personalized medicine approach to autism and related conditions. 
Commentaries
Nature reviews neuroscience research highlights
Science Signaling