A fundamental riddle in understanding language, which is the focus of our HFSP project on 'Analog computations underlying language mechanisms', arises from the observation that the highly specialized cascades of processes involved in the production and perception of language are expressed by the human brain, which has not shown so far any major design difference from the brain of other primates or, indeed, mammals. The riddle is compounded in the Phonological Output Buffer (POB), which is thought to both put together and hold in working memory the units selected to form words, and which when malfunctioning makes us omit, add, transpose, and substitute phonemes, but also, intriguingly, pre-assembled units such as affixes, function words, and number words – leading to similar patterns of errors but always confined within functional categories. How does the POB work, given that no device with ad hoc specialized circuitry is to be found in the brain?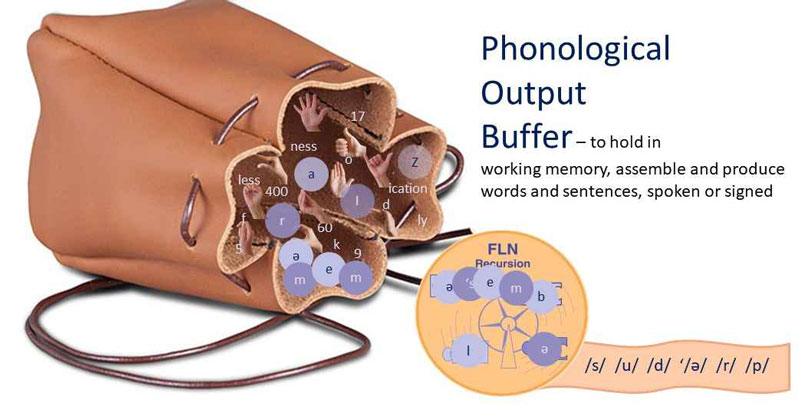 By analyzing the production of sign language, we find evidence of similar limitations (e.g., the working memory span) and parallel malfunction in the assembly of signs, which are interesting for two reasons. First, it suggests that the way the POB makes use of available cortical resources to support a distinctly human capacity is not restricted to spoken languages, but it extends to signed ones; which had already been shown to be endowed with similarly complex compositional and syntactic structures. Second, although POB function includes both parallel and serial processing in either modality, it can be argued that in the production of a word lasting about half a second, the POB is mostly challenged by the sequential ordering of phonemes and other units if the word is spoken, and by the simultaneous ordering of e.g. handshapes, place of articulation and movement if these three elements together express a sign. Can the same standard cortical machinery operate both ways?
We address this issue by utilizing a Potts network, as a much simplified anatomo-functional model of cortical organization. Adding one by one ingredients from the 'bag of tricks' available to mammalian brains, such as fast local inhibition, longer range inhibition, slow adaptation, we find that they are all needed for POB operation, and that their removal leads to similar impairments as suggested in patients. The critical factor enabling both sequential and simultaneous assembly is in the way the units are coded, possibly within the same neural population, but with a distinct compositional distribution. How such neural representations of linguistic units could emerge or perhaps self-organize will be the focus of our continuing interdisciplinary collaboration.