Contests between groups are well-known in human societies, ranging from small-scale skirmishes to world wars. In these human conflicts, groups with more fighters tend to win, but key 'warriors', or leaders, can also galvanize group success. Non-human animal groups—from warring ant colonies to raiding chimpanzee troops—also routinely fight. New research by HFSP Long-Term Fellow Patrick Green and colleagues found that, similar to humans, both group- and individual-level properties matter to success in animal intergroup conflicts.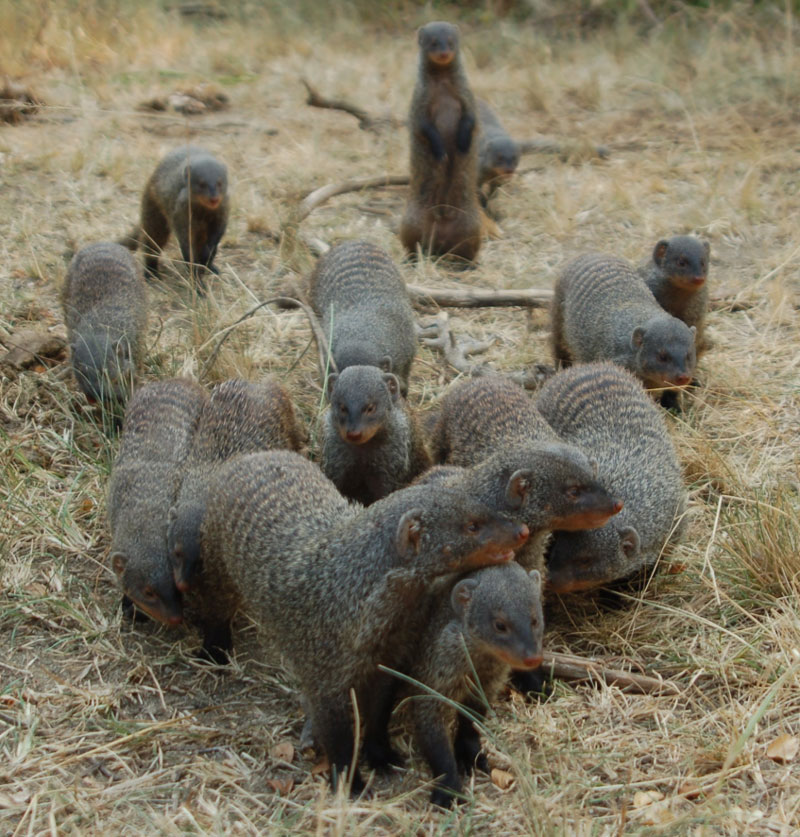 Figure: A group of banded mongooses (Mungos mungo) approaches a rival group during an intergroup contest. Photo courtesy of Harry Marshall.
Green and collaborators studied banded mongooses, which live in cooperative groups of approximately 20 adults, plus pups. When two groups meet, fights are common and particularly violent. Death rates from intergroup contests are some of the highest among mammal species. Green and colleagues studied a database of over 600 contests observed over 25 years to understand what predicted which groups won fights. They found that groups were more likely to win if they had more males than their rival group, and if their oldest male was older than that of the rival group. 
The two properties important to between-group fights—number of males and oldest male age—might influence within-group behaviors. Males, who drive contest success, receive more care when young and are less likely to be evicted from groups than females. While having the oldest male was beneficial overall, once a group's oldest male reached extreme old age (11 years or older), he became a hindrance instead of a help. A male's risk of eviction from the group also increased with age, suggesting groups might kick out unhelpful old males. 
HFSP funding was crucial in facilitating the collaboration between Dr. Green—who contributed experience in contest research—and collaborators Drs. Thompson and Cant—who have expertise in the study of social behavior. While revealing connections between human and non-human animal conflicts and sociality, this research also sets the stage for future studies. For example, the researchers hope to use experiments to test whether the oldest males in groups lead group fighting behavior and/or galvanize group effort. 
HFSP award information
Long-Term Fellowship (LT000460/2019-L): Principles and mechanisms of intergroup contests: understanding social evolution
Fellow: Patrick Green
Nationality: USA
Host institution: University of Exeter, Penryn, UK
Current institution: University of California, Santa Barbara, USA
Host supervisors: Mike Cant, Stephen Proulx