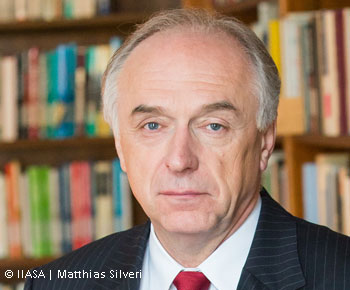 The new Secretary-General will continue to build HFSP's prestigious reputation as the leading body supporting international collaboration in basic life science research. He will lead HFSP into the future of a rapidly changing scientific and research funding environment. HFSP takes a worldwide approach in the spirit of science without borders funding outstanding research at the leading edge of the life sciences through its research grant and postdoctoral fellowship programs.
Professor Kabat was the inaugural Chief Scientist and Research Director of the Geneva based World Meteorological Organization (WMO) of the United Nations, where he was overseeing the overall strategic direction of WMO science and science to application activities worldwide. Previously, he was Director General and Chief Executive Officer of the International Institute for Applied Systems Analysis (IIASA) in Laxenburg, Austria, an independent, international science and science-to-policy institute, that conducts fundamental, applied and policy-oriented research into problems that are too large or too complex to be solved by a single academic discipline or country. He is also Professor of Global Water and Climate Systems at Wageningen University in the Netherlands. 
"I am absolutely thrilled to join HFSPO and want to thank the Board of Trustees for putting their confidence and trust in me," said Professor Kabat. "The life sciences are a highly complex and rapidly developing field and have become a true frontier that will have a lasting impact on society. I believe that my previous experience in transdisciplinary, systems approaches will be helpful for us to further the reputation and success of HFSP. I look forward to leading HFSP's efforts in supporting fundamental research in the life sciences, expanding its global membership and overall footprint, and to exploring new emerging life science topics as well as the transdisciplinary, collaborative power of the Program."
Trained as a mathematician and hydrologist, Professor Kabat's almost 35-year academic career has covered earth system science with a specific focus on interactions between biospheric, physical, and human parts of the Earth's system, land-atmosphere feedbacks, climate hydrology, and the water cycle.
Prof. Nagata, President of HFSPO, commented that "Prof. Pavel Kabat is exceptionally well qualified for this position. His experience in mathematics is fundamental in the quest of HFSP to fund life science research that enables quantitative biology, which will ultimately advance our knowledge of basic processes. His broad experience in the physical sciences guarantees the continuity of HFSP's standing in the global scientific community and, at the same time, it is a recognition of the scientific strength of HFSP funded research."
----------------------------------------------------------------------------------------------
The Human Frontier Science Program was founded in 1989 to advance international research and training at the frontier of the life sciences. It is supported in 2021 by contributions from the G7 nations, together with Switzerland, Australia, India, Israel, New Zealand, Singapore, Republic of Korea, and the European Union. With its collaborative research grants and postdoctoral fellowships, the Program has issued over 4500 awards involving about 7500 scientists from all over the world. Since the beginning of the Program in 1989, 28 HFSP awardees have gone on to win the Nobel Prize.